Marketers are constantly looking to deliver a personalized customer experience. However, according to data from Sailthru, that's not always easy.
Sailthru, a personalization technology company, surveyed 146 UK and US marketers in the commerce, publishing and retail industries about their views on customer personalization—and asked them what impedes their goals in this area.
Out of the many challenges mentioned, a plurality of respondents—roughly four in 10—said one of the leading barriers was a lack of resources such as time, people and money.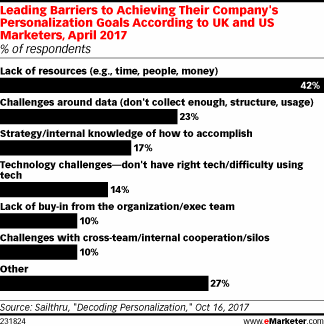 Meanwhile, nearly a quarter (23%) of US and UK marketers reported challenges around data, and another 14% mentioned technology challenges—either not having the right tech in place or the actual difficulty of using it.
And the hurdles didn't stop there. Some felt they didn't have the internal knowledge needed to execute their personalization goals, while others felt there was a lack of buy-in from their company.
Read more at: https://www.emarketer.com/Article/Achieve-Personalization-Marketers-Need-Resources/1016663?ecid=NL1001